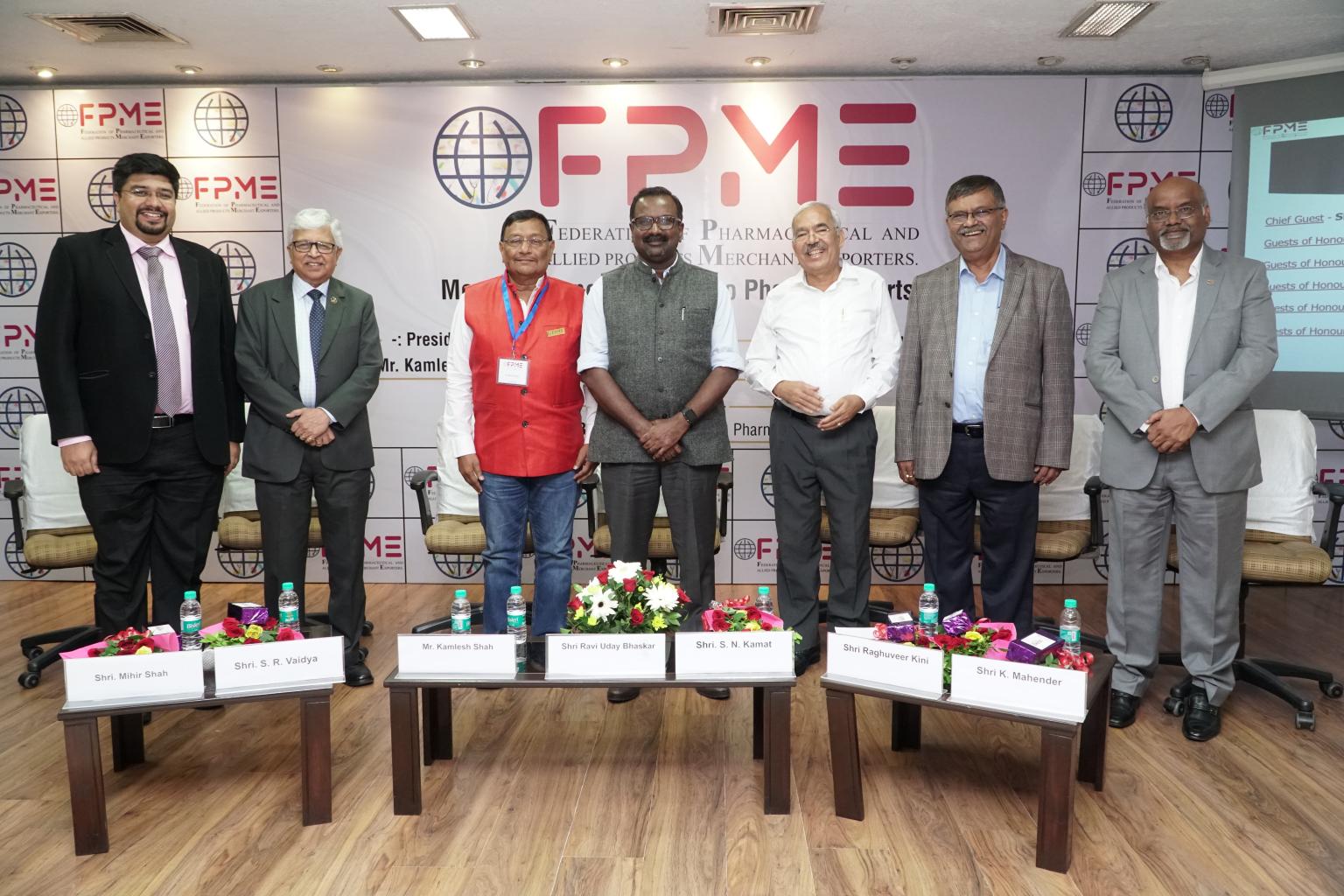 Respected Chief Guest, Guests of Honour & Members,

It was a privilege to have you at the  FPME Inaugural event, it made the Event Special
We are Thankful for:

Our Chief Guest Shri Uday Bhaskerji – DG Pharmexcil for having graced this Occasion
Knowing his extremely busy schedule he thought it more prudent to give this presence to a New/budding Association. Shri Uday Bhaskerji, also gave an Insight how an Association should conduct itself and keep its focus on compliances and integrity.

Our Guest of Honor – Shri Kamat of Bliss GVS – gave his blessings to the Association 
Our Guest of Honor – Shri Vaidya –  Gave us many salient points of how an Association should map its future 
Our Guest of Honor – Shri Mihir Shah – Shared his immense knowledge on the Burning Issues on Regulatory compliances on Exports / GST and other issues. The Association is privileged to have him on the  Advisory Panel ( Advisory@fpmeindia.com)
Our Guest of Honor – Shri Mahender – who shared his vast experience with the Audience 
Our Guest of Honor – Shri Kini – Also guided us on the Insights of Pharmaceuticals Exports 
Our FPME Chairman – Shri Kamlesh Bhai, shared is a journey of 45 years as a Merchant Exporter
Hon Secretary – Shri Sandeep Modi addressed the gathering on how FPME was conceived, the Activities FPME has done till date and also the way ahead for FPME
Our Member – Dr Piyush Gupta gave his Keynote address on – Keyrole of Merchant Exporters in Pharma Exports. His meticulous presentation was well appreciated by the Audience and the Dignitaries.
Our Sponsors – ICICI – gave a presentation on nuances of Banking which are beneficial and Customised for Merchant Exporters
Our Sponsors – Abbot Healthcare – Presented its Range of Quality and Competitively Prices products 
Our Sponsors – R2D – gave a very crisp and live demonstration of how Logistics can speed up Shipments 

Finally, it was overwhelming to see our Members and Associate Members from Mumbai, Delhi, Ahmedabad, Pune, Nagpur present in large numbers. 

An Appeal to non-members to JOIN FPME TODAY. Inform your trade partners also to join.

Check EVENT VIDEOS and EVENT PHOTOS

Our Emails:
info@fpmeindia.com – We request the member to share their views / Queries/thoughts on the given e-mail on all FPME related. 

advisory@fpmeindia.com – for Advisory related Queries 
Members are requested to make use of the above services. (Please mention your membership number). 

Thanking you
FPME – ADMIN